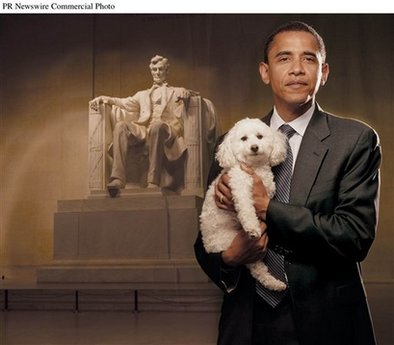 The backstory of this photo via 'scarce' at Crooks & Liars:
The above photo shows Obama with "Baby," a three-legged dog that lost its fourth limb following years of mistreatment at a California puppy mill. The toy poodle spent much of its life locked in a small wire cage. The breeders cut out Baby's vocal chords so that they would not have to hear her cries. In cages next to her, other dogs literally went insane, spinning repetitively with blank stares. Still others were gravely ill, maimed and had filthy, matted coats. A number was tattooed on the inside of Baby's ear, marking her as just one of many dogs at the mill.

Barack Obama posed for this picture for Jana Kohl's book A Rare Breed of Love. Obama has co-sponsored Dick Durbin's Bill to crack down on abusive puppy mills, and has earned the first ever presidential endorsement from the Human Society.