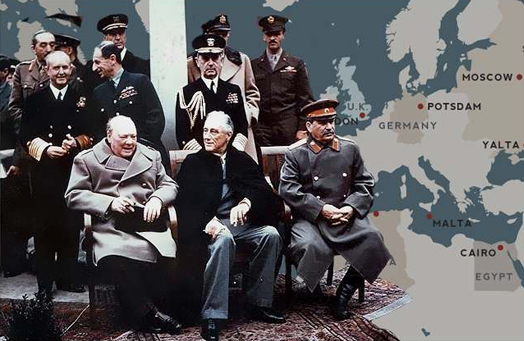 The producers of WWII Behind Closed Doors: Stalin, the Nazis and the West were awesome enough to send me screener DVDs of this PBS documentary miniseries. If you're at all interested in World War II, Stalin's Soviet Union, and FDR's approach to foreign policy, you should definitely watch this one.
Episode 1 focused mostly on Stalin and the infamous Non-aggression Peace Pact. But I never knew about Stalin's ridiculous excuse for the "disappearance" of 22,000 Polish officers. He told exhiled Polish resistance officials that they all escaped. All 22,000. When, in fact, Stalin systematically executed every single one of them.
Episode 2: Cracks in the Alliance airs Wedneday night — it revolves around the first meeting between Churchill and Roosevelt, as well as the behind-the-scenes details of the first summit between Churchill, FDR and Stalin.