My wife and I drove down to Gettysburg yesterday and, along the way, we spotted the following billboard. I didn't have the foresight to take a picture of my own, but fortunately someone else did: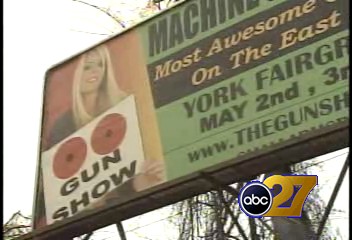 Those boobs/circles are actually firing range targets. So not only are the gun show people using boobs to promote their event (family values Republicans!), but any target on the chest of a woman sort of vaguely implies shooting at the woman, no?
By the way, based on the timestamp from the above link, the billboard was first used back in 2008.
Stay classy, wingnuts!