Update: In press conference, state police report 28 dead, 20 children.
Update: President Obama moments ago:
"We're going to have to come together and take meaningful action to prevent tragedies like this, regardless of the politics."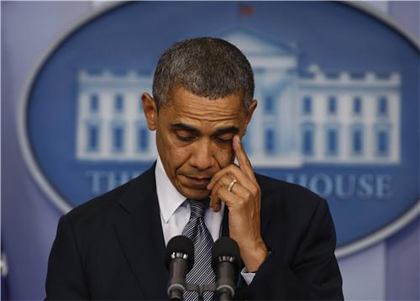 Update: This is the rifle one of the gunmen reportedly used. A perfectly legal .223 caliber assault rifle:

Why on Earth is this monstrosity legal and, according to the NRA, constitutionally protected?
Update: Local news is reporting 22 children are dead.
CBS News is reporting that at least 26 people are dead, including 18 students, after a mass shooting at the Sandy Hook Elementary School in Newtown. The gunman is among the dead.

CBS News' John Miller reports there is preliminary information that the gunman was the father of one of the students. Miller additionally reports the gunman is 20 years old and is from New Jersey.

The shooter was killed and apparently had two guns, a person with knowledge of the shooting said. The person spoke on condition of anonymity because the investigation was still under way. It is not known whether the shooter took his own life or was killed.

CBS News reports that a potential second shooter is in custody and that SWAT is now investigating the home of the suspect.

A witness tells WFSB-TV that a second man was taken out of the woods in handcuffs wearing a black jacket and camouflage pants and telling parents on the scene, "I did not do it."
Updated.